in English below.


塩川 彩生
Ayao Shiokawa

鏡の中の影
" Shadow in mirror "
November 29 - December 27 2008
Opening Reception : November 29 Sat, 6-8pm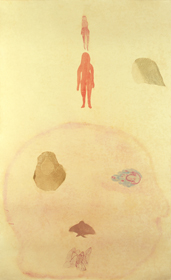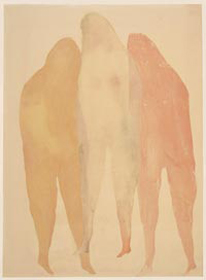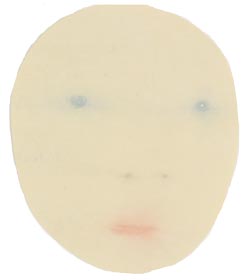 I see you - No.2 / 145.5 x 89.4 cm            float / 73 x 53 cm             drop
                                                                             /water color and ink on wood cut

Copyright (c) Ayao Shiokawa 2008. All rights reserved.
<<作家コメント>>
外界の世界と内在とを行ったり来たりしながら日々は流れていきます。
ある時私は外界の世界と私とがくっきり離れると世界が眩しくキラキラして見えるということに気が付きました。
そこはどこか懐かしさに包まれた場所。
しかしその場所には長くは居られません。
曖昧で優しいその掴めない光の境界線は影と混ざり合い反発し変容していきます。
それを観察し私の中にある小さな微かな残像を見つめてみました。
そして私の中を透りすぎていった光の感触を思い出しています。


<<作家・展覧会紹介>>
 塩川彩生は1978年神奈川県に生まれる。
幼い頃から一人じっと物思いに耽る大人しい少女だった。絵を描きながら、想像と現実の世界を行ったり来たりして遊んだ。
「どこから生まれて来たの?」という問いに、母は「お母さんのおなかの中よ。」と教えてくれたが、それは彼女の本当の疑問の答えではなかった。
「そのもっと前は、どこにいたの?」
以来、その謎は彼女の胸の内で大きく成り、今日では制作テーマの主軸とも成っています。
 塩川は「絵の中に表現される世界は、鏡の中の世界に似ている」と言います。虚像の世界でありながら、実際には見ることのできない自分の姿までもが映し出される鏡の世界。
重力も時間の束縛もない理想化された自らの精神世界をそこに重ね、虚構の世界に存在するもう一人の自分にリアリティーを覚えます。
それと同時に、現実の世界に存在することの不確かさを問い直すのです。
 そのありのままを感性豊かに、「心を映し出すもう一つの鏡=絵」の中へと視覚的に繊細に描き出していきます。
日本の木版の技法から生み出されるその世界観は、包み込むような温かさと淡く優しい光に満ちた世界を私たちに示してくれます。
 
本展覧会では、版表現を用いた平面作品を数点出展いたします。 ぜひこの機会にご高覧頂きますよう、お願い申し上げます。


<<作家プロフィール>>
塩川 彩生 (しおかわ あやお)
1978年 神奈川県生まれ
多摩美術大学絵画科卒業
東京藝術大学大学院修士課程修了
主な活動・展覧会歴
2008        文房堂ギャラリー ウッドカット姉妹展
            Daimaru art gallery TOKYO EYE05 (協力magical art room)
            Gallery private.鎌倉 "Moving shadows"個展 
2007        ギャラリー工房親 "Moving Woods"個展
2006        アートスタジオ五日市レジデンス 滞在アーティスト
            "Big Pagoda"展 サンフランシスコ アメリカ(協力Nakaochiai Gallery)
            アートスタジオ五日市版画展
受賞歴
2008        高知国際版画トリエンナーレ 土佐和紙賞
2005        町田市立国際版画美術館買い上げ賞
            第41回神奈川県美術展 特選 
2004        セプティーニ賞(東京藝術大学)
            俵賞(東京藝術大学)
パブリックコレクション
            町田市立国際版画美術館
            東京都あきる野市
            高知県手すき和紙協同組合
---


 We spend our days going back and forth between the outer world and the inner one.
 At some point, I noticed that,
when there was a distinct separation between the outer world and myself,
everything looked dazzlingly bright.
 It is a place that somehow conjures up mellow, nostalgic feelings.
 But I cannot stay there for long.
 The border lines shrouded in nebulous, soft, and elusive light metamorphose as they mingle with and bounce off shadows.
 I observed this and decided to stare at the few scant afterimages lingering in my mind.
 And I recall the touch of the light that passed through me.
by Ayao Shiokawa, 2008






On the Exhibition
 Ayao Shiokawa was born in Kanagawa Prefecture, Japan in 1978.
From early childhood, she was a mild-mannered girl who would play by herself and get lost in her thoughts.
While drang pictures, she amused herself by going back and forth between the world of her imagination and that of reality.
 "Mommy, where did I come from?" she once asked, and her mother replied "from inside my tummy.
But that did not answer her real question. "No, I mea n before that - where was I?"
The mystery continued to swell in her mind, and eventually became what is also the principal theme of her work.
 Shiokawa has likened the world portrayed in her pictures to that in a mirror.
Although it is one of merely virtual images, the mirror-world presents even reflections of the self that cannot actually be seen otherwise.
Overlapped with it is our own idealized spirit-world free of gravity and time, lending a reality to the other self inhabiting the fictitious domain.
At the same time, it brings home to us how uncertain and indefinite our existence in the real world is.
 Shiokawa's works are delicate visual depictions of this other world just as she sees it.
Rendered with a rich sensitivity, her pictures draw us inside them like another type of mirror, one reflecting the soul.
Born of techniques taken from Japanese woodblock printing, their world view reveals to us a cosmos suffused with a feminine,
enveloping warmth and soft, gentle light.
This exhibition contains several plane-surface works whose production applied woodcut processes.
We strongly urge all to see it.
Biography
Ayao SHIOKAWA
1978  Born in Kanagawa, Japan
2000-2004  Tama Art University, Printmaking Course, Department of Painting
2004-2006  Tokyo National Universuty of Fine Arts and Music, MA Program, Printmaking Course, Department of Oil Painting
2006  Artist-in-Residence Program, Art Studio Itsukaichi


Exhibitions

2008   Bumpodo gallery "Woodcut-sisters", Tokyo
     Gallery private "Moving shadows", Tokyo
     Daimaru art gallery "Tokyo eye" / supported by Magical artroom, Tokyo
2007  Gallery Kobo Chika "Moving Woods", Tokyo
2006  "Big Pagoda" / supported by Nakaochiai Gallery, San Francisco, Calfornia
2005  Program of print exchange between Japan and Taiwan
2004  Print Portfolio Exchange Exhibition,
     Central Academy of Fine Arts Beijing; Seoul National University; Tokyo National University of Fine Arts and Music