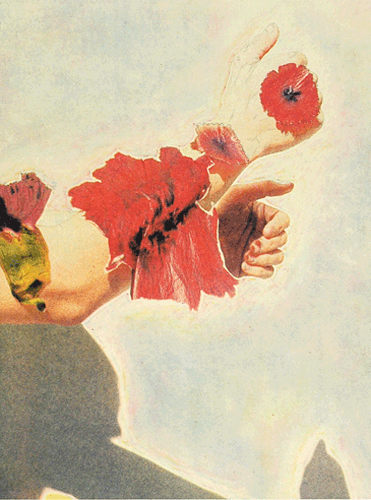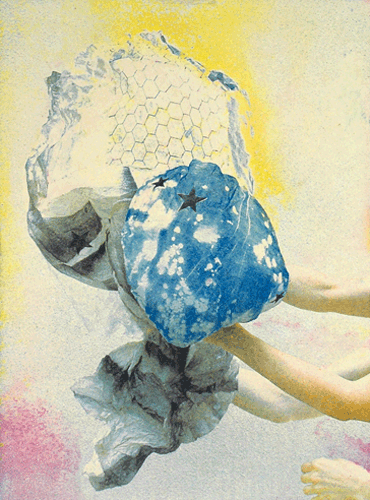 from"Puppetry" "Garland"(left)"Cloud"(right) 2012
paper size : 381x 457 mm image size : 335 x 251、photopolymer、Ed.13

2012.12.18. - 1.29 / 2013.1.22 - 2.16
Tue - Sat 12:00 - 19:00
winter holiday:2012. 12. 30 - 2013. 1. 21
KIDO Press has produced a portfolio with Kiki Smith, the major American contemporary artist.
Titled "Puppetry", the portfolio is a series of five works, each portraying body-part cut-outs and motifs tied to them from the artist's perspective, amid vividly colored collages and photographs.
Accented with some pencil drawings that provide beautiful and sensitive touches, the works are imbued with a unique magnetism.
This is an exhibit that is not to be missed!
about the artist
Kiki Smith was born in Nuremburg, Germany in 1954, and currently lives and works in New York.
Over the years 1979 - 1982, she was involved with various artists owing to her participation in the Collaborative Project, Inc. (Colab). And in 1990, she had a one-woman exhibit in Project 24 at the New York Museum of Modern Art (MOMA). She has stayed extremely active in both creating and exhibiting art.
Developing her distinctive creations with diverse techniques including drawing, sculpture, and printmaking, she has staged performance-tinged shows with overwhelming impact in the United States and various European countries. Today, she is indisputably one of America's most important female artists, and cannot be overlooked in any discussion of contemporary art.
In 1979, early in her career, Kiki began to display an interest in parts of the body, which still lay behind her works as a thematic concern.
To acquire more specialized knowledge in this area, she successfully took a course for certification as an emergency medical technician in 1985. With her new insight into the human body both inside and out, the focus of her interest began to shift toward organs (cells and nerves) and functions (secretion and metabolism).
The "cycle of life" and "death and rebirth" pondered by Kiki from this vantage have consequently become the backbone themes of her artistic creation. Her works sometimes allude to narratives from classical myths and folklore, and likewise give us much food for thought with their fresh look at the connection between animals and human beings.
comment by artist
I guess I named it Puppetry because it implies artifice of movement similar to an automaton and things being moved, conjured up or elicited outside the natural realm of movement. I like the interjection of noise as a consequence of polymer plate printing.
about photopolymer plates
Also popularly referred to as solarplates, photopolymer plates are at the heart of a printmaking process which came into widespread use, mainly in North America and Europe, about ten years ago.
The process is based on metal plates coated with a photosensitive polymer. The plates can be used for either relief printing or intaglio printing, or both.
Polymer plates allow use of sunlight for exposure, and a special exposure unit makes it possible to mitigate the influence from hazardous ultraviolet rays. Furthermore, image development after exposure requires only tap water; there is absolutely no need for special developing or fixing solutions made with chemical agents.
These attributes are behind high hopes for the spread of printing with photopolymer plates as a process that is environment-friendly, low-cost, and simple, as for that of water-base and neutral ink.
selected show
2012
-Visionary Sugar, Neuberger Museum of Art, Purchase, NY,
2010
-I Myself Have Seen It: Photograpy & Kiki Smith, Henry Art Gallery, Seattle; Mary and -Leigh Block Museum of Art, Evanston, Illinois; The Frances Young Tang Teaching -Museum, Skidmore College, New York und Scottsdale Museum of Cemporary Art, Arizona
2009
-Her Memory, Fundacio´ Joan Miro´, Barcelona
2008
-Her Home, Kunsthalle Nuremburg / Museum Haus Esters, Krefeld
2006-2007
-Whitney Museum, NY
2006
-Contemporary Arts Museum, Houston
-Walker Art Center, Minneapolis
2005-2006
-San Francisco Museum of Modern Art0
2005
-Homespun Tales, Fondazione Querini Stampalia, Venice
1980-2005
-Kiki Smith: A Gathering,
2003
-Kiki Smith: Prints, Books and Things, The Museum of Modern Art, NY
etc.
further information, please contact to
KIDO Press, Inc.
1-3-2-6F, Kiyosumi, Koto-ku, Tokyo 135-0024 Japan
Tel&Fax +3(5856)5540
Email printart@kidopress.com
Web www.kidopress.com